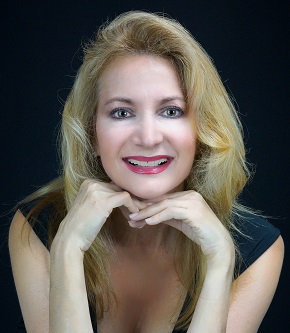 WIN PSYCHIC SESSION with Spirit Medium Laura!   Providing simple, honest and humble soul service.  Channeling spirit for 30+ years, radio host, research medium, author, "100 Top Psychic."  Join mailing list at right!
BOOK PRIVATE SESSION HERE
Portion of all proceeds go monthly to
DEZZY'S SECOND CHANCE ANIMAL RESCUE, INC.
www.DezzysSecondChance.com
Spirit Medium Laura, Clairvoyant Healer, provides simple, honest and humble soul  service with exceptional, ethical and evidential psychic mediumship, messages, meditation, manifesting, mentoring, mending (healing) & medical intuitive intelligence.   30+ years experience. Top 100 Psychic.  Research Medium.  Contact:  Laura@SpiritMediumLaura.com.  (954) 465-7338.   Service descriptions HERE.  Book HERE. 

TESTIMONIAL:  Nineveh Cannivino, Mediumship.  "Dear Laura, I had the pleasure of having a 'Channel Spirit' medium session with you on Dec.10th, 2015.  Quite honestly, I am going to start that I am a cynic and a skeptic by nature. Please forgive me. You did indeed channel the person my energy was focused on.
The validations were forthcoming throughout the reading. When I asked for a name, at first neither of us knew it would come to the surface, then much to my amazement, he gave you his name!  Wow. That was the first validation among many to follow, which I'm going to list."  Rest of inspiring testimonial HERE.
ANOTHER TESTIMONIAL:  Eileen Jason, Mediumship Session, "I had a great reading with Laura! She was able to connect with specific people in my life and answer questions about particular events happening in my life at the moment. Laura went above and beyond and even extended the time we spoke. The only bad thing I can say about the reading is that it was not long enough :-). There were many more people on the other side that were there waiting to come through but we ultimately ran out of time. I will definitely be scheduling at least one more, longer session with Laura to receive messages from others. Laura is very gifted and compassionate!"  Hundreds more testimonials HERE.  Read another below.
PROOF.  You can see spirit prove itself through Laura in your private session, the hundreds of LIVE, REAL and RAW mediumship, messages and clairvoyant healer reading samples recorded in videos at right and the hundreds of testimonials found HERE.
ABOUT PSYCHIC MEDIUM & CLAIRVOYANT HEALER LAURA.  Laura did not seek to do this work, instead was catapulted from millionaire to medium against her best efforts otherwise.   Seeing spirit uninvited as a child, Laura closed off until her master guide, St. Ignatius Loyola, (same as JOHN of GOD) pushed through over 30 years ago.   Some credentials include author of the Soul Psychic Healer Master Certification Program, featured in "100 Top Psychics and Astrologers in America," research medium for AfterLifeData.com and host of radio show "SPIRIT MEDIUM LAURA MEDIUMSHIP & MESSAGES," samples of which are on the right side videos of this website.  Laura has many more credentials described HERE.
MANIFEST LIKE MAGIC!  Read Laura's channeled metaphysical book, "Manifesting Magic:  The SOUL ABUNDANCE Law of Attraction Secret."  Buy HERE.
Next Step….

CONTACT:  Spirit Medium Laura's offices can be reached at (954) 465-7338 or email laura@spiritmediumlaura.com.
Advisement:  Spirit Medium Laura provides the highest quality intuitive services available today in compliment to, but not replacement for, licensed professional advice, healing and treatment.   This message covers entire website and service. 
Serving Locally:  Florida, South Florida, South East Florida, Palm Beach County, Broward County, Delray Beach, Boynton Beach, Boca Raton, Lake Worth, Coral Springs, Wellington, Palm Springs, Green Acres, Coconut Creek, Pompano Beach, Deerfield Beach, Ft. Lauderdale, West Palm Beach, Palm Beach Gardens, Davie, Pembroke Pines, Plantation, Dania Beach, Lauderdale By The Sea, Wilton Manors, Sunrise, Lauderhill, Lauderdale Lakes, Miami Dade, Victoria Gardens, Hollywood, Miami-Dade, Jupiter, Stuart and beyond.
Servicing Top Cities:  Miami, FL, Jacksonville, FL, Orlando, FL, Atlanta, GA, New York City, NY, Los Angeles, CA, Chicago, IL, Houston, TX, Philadelphia, PA, Phoenix, AZ, San Antonio, TX, San Diego, CA, Dallas, TX, San Jose, CA,  Austin, Tex., Jacksonville, Fla., Indianapolis, Ind., San Francisco, Calif., Columbus, Ohio, Fort Worth, Tex., Charlotte, N.C., Detroit, Mich., El Paso, Tex., Memphis, Tenn., Boston, Mass., Seattle, Wash., Denver, Colo., Washington, DC , Nashville-Davidson, Tenn.1, Baltimore, Md., Louisville-Jefferson County, Ky.2, Portland, Ore., Oklahoma City, Okla., Milwaukee, Wis., Las Vegas, Nev., Albuquerque, N.M., Tucson, Ariz., Fresno, Calif., Sacramento, Calif., Long Beach, Calif., Kansas City, Mo., Mesa, Ariz., Virginia Beach, Va., Atlanta, Ga., Colorado Springs, Colo., Raleigh, N.C., Omaha, Nebr., Miami, Fla., Oakland, Calif., Tulsa, Okla., Minneapolis, Minn., Cleveland, Ohio, Wichita, Kans., Arlington, Tex.,
Serving US States:  Alabama, Alaska, Arizona, Arkansas, California, Colorado, Connecticut, Delaware, Florida, Georgia, Hawaii, Idaho, Illinois, Indiana, Iowa, Kansas, Kentucky, Louisiana, Maine, Maryland, Massachusetts, Michigan, Minnesota, Mississippi, Missouri, Montana, Nebraska, Nevada, New Hampshire, New Jersey, New Mexico, New York, North Carolina, North Dakota, Ohio, Oklahoma, Oregon, Pennsylvania, Rhode Island, South Carolina, South Dakota,Tennessee, Texas,Utah,Vermont, Virginia,Washington,West Virginia, Wisconsin, Wyoming