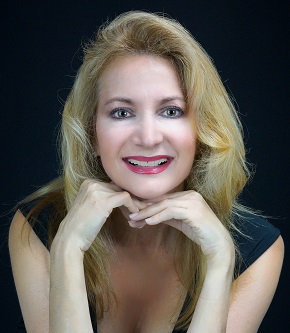 Spirit Medium Laura's work is based on her channeled book called SOUL ABUNDANCE, providing YOU spiritually based, exceptional, ethical and evidential:
1.  Mediumship  (Otherside Connections).  Channeling 30+ years.  Research medium.  100s testimonials. Live radio readings.  With "evidence" of infinite life (Soul Abundance) we begin our healing journey.
2.  Mentoring (Psychic sessions based on SOUL ABUNDANCE, Master Channeling, Akashic Records, Dharma, Kharma, Purpose, Evolution, Soul Psychic Development, Manifesting tools).  Featured, "Top 100 Psychic in America."  Author "Soul Psychic Healer Master Certification" program.
3.  Mending.  (Medical Mediumship & Mind Body Soul Healing).  Certified L.E.A.N. Health Coach.  Discovered after channeling St. Ignatius Loyola for over 30 years, this is the same master guide to John of God, famed Brazilian healer!  


BOOK PRIVATE SESSION HERE.
Contact:  Laura@SpiritMediumLaura.com.  (954) 465-7338.
Portion of all proceeds go monthly to
DEZZY'S SECOND CHANCE ANIMAL RESCUE, INC.
TESTIMONIAL:  Nineveh Cannivino, Mediumship.  "Dear Laura, I had the pleasure of having a 'Channel Spirit' medium session with you on Dec.10th, 2015.  Quite honestly, I am going to start that I am a cynic and a skeptic by nature. Please forgive me. You did indeed channel the person my energy was focused on.
The validations were forthcoming throughout the reading. When I asked for a name, at first neither of us knew it would come to the surface, then much to my amazement, he gave you his name!  Wow. That was the first validation among many to follow, which I'm going to list."  Rest of inspiring testimonial HERE.
TESTIMONIAL:  Dennis Grega, Ph.D., Voices Across The Veil Research Mediumship Session, "Superb, Magnificent and and 'Marvelous' session!!!!  I sat enthralled watching and listening in the background. I loved seeing the smiles on both sitter's faces. They will remember this forever as will I."   More testimonials HERE.
TESTIMONIAL:  Article, Boca Magazine, HERE.
Delray Beach Magazine, May- June 2013.  Read for Assistant Editor's John Thomason's wife on my radio show.  Resulted in this article about Laura.  To read the article go to Facebook HERE.
PROOF.  You can see spirit prove itself through Laura in your private session, the hundreds of LIVE, REAL and RAW mediumship, messages and mending (healing) samples recorded in videos HERE (and on sidebar to the right) and the hundreds of testimonials found HERE.
ABOUT SPIRIT MEDIUM LAURA:  Spirit Medium Laura was born to channel Soul Abudance.  Her mother and sister were professional psychics.  Other family members exhibited abilities.
Laura's natal astrological chart reflects all planets in the 8th house, the house of the occult.  Her numerology life path number is 11/22, the master number.  Her third eye is permanently marked as a light mole centered just above her eyebrows.
It is no wonder then that Spirit Medium Laura began seeing spirit as a child, had a near death experience at 4 years old, received messages during meditation as a teenager about the universe.  At 30 years old Laura began spontaneously channeling St. Ignatius Loyola, even going to full trance without ever a class.
Decades later Laura discovered St. Ignatius Loyola is same Master Guide to famed healer John of God.
After many years of avoiding her soul's plan for this life time in pursuit of material values, spirit forced Laura from millionaire to medium.  Now Laura is featured as a "Top 100 Psychic in America," is a VoicesBeyondVeil.com research medium, is author of the Soul Psychic Healer Master Certification Program and is host of her own radio show.  View videos of her live readings on this show HERE.
Contact:  Laura@SpiritMediumLaura.com.  (954) 465-7338. 
Next Step….

CONTACT:  Spirit Medium Laura's offices can be reached at (954) 465-7338 or email laura@spiritmediumlaura.com.
Advisement:  Spirit Medium Laura provides the highest quality intuitive services available today in compliment to, but not replacement for, licensed professional advice, healing and treatment.   This message covers entire website and service. 
Serving Locally:  Florida, South Florida, South East Florida, Palm Beach County, Broward County, Delray Beach, Boynton Beach, Boca Raton, Lake Worth, Coral Springs, Wellington, Palm Springs, Green Acres, Coconut Creek, Pompano Beach, Deerfield Beach, Ft. Lauderdale, West Palm Beach, Palm Beach Gardens, Davie, Pembroke Pines, Plantation, Dania Beach, Lauderdale By The Sea, Wilton Manors, Sunrise, Lauderhill, Lauderdale Lakes, Miami Dade, Victoria Gardens, Hollywood, Miami-Dade, Jupiter, Stuart and beyond.
Servicing Top Cities:  Miami, FL, Jacksonville, FL, Orlando, FL, Atlanta, GA, New York City, NY, Los Angeles, CA, Chicago, IL, Houston, TX, Philadelphia, PA, Phoenix, AZ, San Antonio, TX, San Diego, CA, Dallas, TX, San Jose, CA,  Austin, Tex., Jacksonville, Fla., Indianapolis, Ind., San Francisco, Calif., Columbus, Ohio, Fort Worth, Tex., Charlotte, N.C., Detroit, Mich., El Paso, Tex., Memphis, Tenn., Boston, Mass., Seattle, Wash., Denver, Colo., Washington, DC , Nashville-Davidson, Tenn.1, Baltimore, Md., Louisville-Jefferson County, Ky.2, Portland, Ore., Oklahoma City, Okla., Milwaukee, Wis., Las Vegas, Nev., Albuquerque, N.M., Tucson, Ariz., Fresno, Calif., Sacramento, Calif., Long Beach, Calif., Kansas City, Mo., Mesa, Ariz., Virginia Beach, Va., Atlanta, Ga., Colorado Springs, Colo., Raleigh, N.C., Omaha, Nebr., Miami, Fla., Oakland, Calif., Tulsa, Okla., Minneapolis, Minn., Cleveland, Ohio, Wichita, Kans., Arlington, Tex.,
Serving US States:  Alabama, Alaska, Arizona, Arkansas, California, Colorado, Connecticut, Delaware, Florida, Georgia, Hawaii, Idaho, Illinois, Indiana, Iowa, Kansas, Kentucky, Louisiana, Maine, Maryland, Massachusetts, Michigan, Minnesota, Mississippi, Missouri, Montana, Nebraska, Nevada, New Hampshire, New Jersey, New Mexico, New York, North Carolina, North Dakota, Ohio, Oklahoma, Oregon, Pennsylvania, Rhode Island, South Carolina, South Dakota,Tennessee, Texas,Utah,Vermont, Virginia,Washington,West Virginia, Wisconsin, Wyoming